It sure has been a busy time here in the studio! I'm very pleased to be home again after my trip to Western Australia visiting some of the most wonderful customers – all with Intelliquilter systems on their longarm machines.

It was an early start for me to help Tonia with her last live session on Creating Pantos from Block designs but I managed to get there! Did you enjoy learning how to do this and have you created some of your own from existing block patterns on your IQ?

Let us know by posting in the IQ Summit Facebook Group so you can keep inspiring other owners.

So next up is a reminder of our next class with me this time.

Exploring Computer Art Patterns Catalog
This is truly an exciting catalog to use to create so many designs! Have you tried it and come up with your own variations? Join Tracey in exploring how to use this catalog of patterns. From simple to more complex. You will be amazed at what you can create on your own!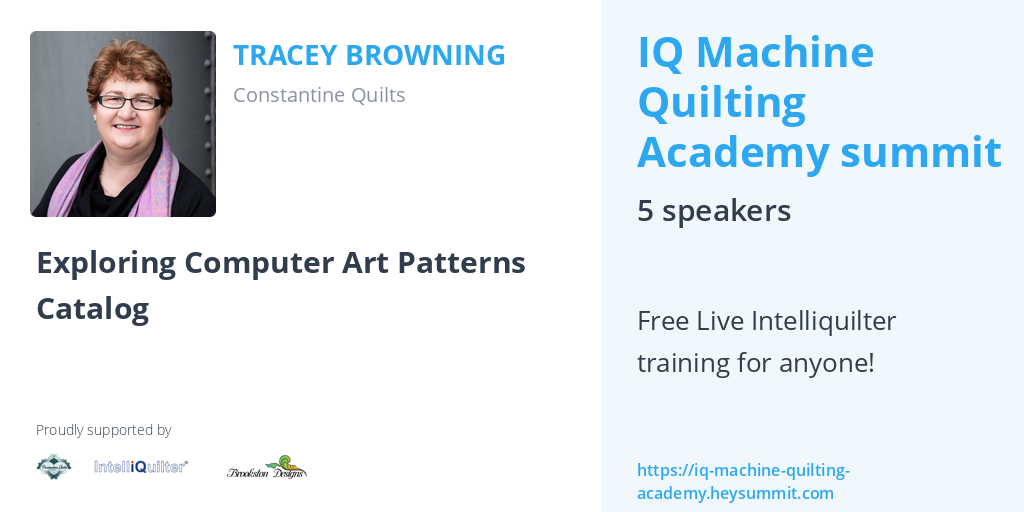 Please note that you can ALWAYS watch for FREE – the live session. You just need to show up…just like when you purchase a class at a show and you don't get a replay or do over later.
Would you like to have more information at your fingertips to help you with your Longarm Business? Then head on over to check out the Resources I've prepared for you.The latest one is a Longarm troubleshooting checklist that everyone should print and use when having machine issues!
We discuss many relevant topics in our monthly live Q & A sessions where we all learn something new and useful each time. From these, courses and articles are created, to build out our library of resources for members to find and utilise when needed. 

Then join us in the Gold Member Group of Machine Quilting Academy. 

If you are already a paying member of IQ Summit then contact me for a special discount voucher to sign up to this service.

Join our Partner Program

Have a list of IQ associates, friends or customers, that you think would benefit from our content?
Our Partner Program is for you!Our affiliate cookies last for a full 90 days, maximising the chances that you'll be rewarded for the referral. We also pay out a 10% commission for each referral. And if they purchase a recurring subscription, we'll also pay you for each month they pay us!

Payouts are made at the beginning of each month for accounts that have a balance of at least $50. 

So jump on board to help subsidise your own subscription/Pass!  

Chat on Sunday – and be prepared to learn more on the amazing Ultimate tool – our Intelliquilter system. 

Tracey