Merry Christmas – Happy holidays to all!

Tomorrow is the final LIVE webinar session for 2020 and I'm squeezing this in at the last moment between customer quilts, harvesting our crops and preparing for multiple family celebrations.

Many, many times I see IQ owners struggling with common issues and frightened to look further into the mechanics of their system and how it works and how it can be adjusted by yourself to get that perfect stitch out. When it is first setup by your dealer it is perfect – UNTIL is is not!

Things can change simply with accidental bumps, catching of cables, knocking your machine off its tracks, too much vibration of your longarm machine, changing in the floor that your machine sits on, bolts getting loose on your table and so many things.

We all know we have to maintain our longarm machines and regularly service them to keep them running in top condition and therefore we also need to service our IQ systems. Maintenance and troubleshooting by the person that runs the machine is the BEST thing you can do as you will know when something is awry.

Don't be frightened to both be really observant and understand how to communicate what you see and hear, clearly and concisely. This will then result in getting things working again much quicker. As always, document what you have checked, observed & heard in a support ticket if the problem persists.

All of what we will discuss is available in IQPedia or support documents at www.intelliquilter.com. I've also done/doing some videos so you can visually watch me adjust motors and perform some tests.

So next up is a reminder of our next class with Tracey Browning
IQ Troubleshooting & Maintenance
on Saturday 19th December at 9am AEST
Click here to find out the time in your own time zone.

YES this is one day earlier than our normal Sunday morning time slot, so it will be Friday afternoon/evening for those in the USA/Canada. (I have one of our family Christmas celebrations in the city on Sunday)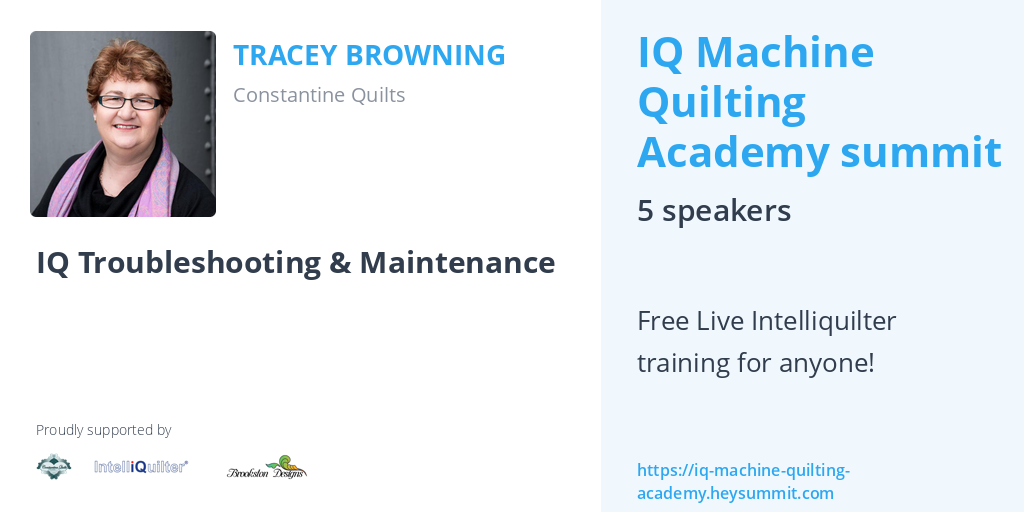 Please note that you can ALWAYS watch for FREE – the live session. You just need to show up…just like when you purchase a class at a show and you don't get a replay or do over later.
Click on the IQ Summit link on the top navigation bar of the website
UPDATE FOR EVERYONE!
This webinar has now been reformatted into a step by step FREE course for anyone to work through to help you with maintaining and troubleshooting your Intelliquilter. You can participate for FREE here
on IQ Summit
Have a list of IQ associates, friends or customers, that you think would benefit from our content? Our Partner Program is for you!
Our affiliate cookies last for a full 90 days, maximising the chances that you'll be rewarded for the referral.
We also pay out a 10% commission for each referral. And if they purchase a recurring subscription, we'll also pay you for each month they pay us!
Payouts are made at the beginning of each month for accounts that have a balance of at least $50.
So jump on board to help subsidise your own subscription/Pass!
Chat on SATURDAY – and be prepared to learn more on the amazing Ultimate tool – our Intelliquilter system.
Tracey