Have you ever wondered how to use some of the amazing designs you have purchased that look quite complicated, and create new ones from some of the elements?  Join us for the next webinar – presented again by the amazing Tonia Brooks of  Brookston Designs  on Sunday 21st June at 9am Australian Central Standard Time.  Breaking up – Using Divide and Split for new patterns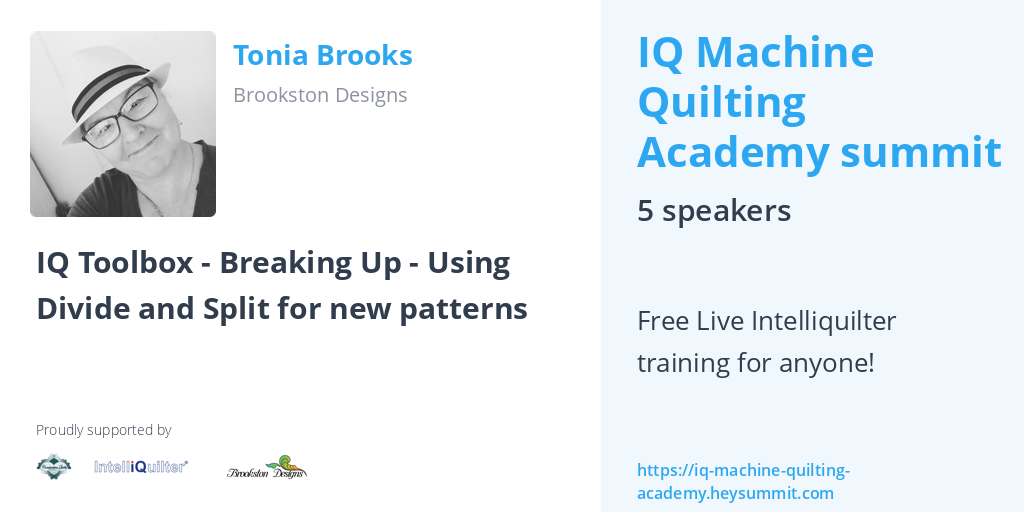 Also this is a reminder that we now have an IQ Summit private facebook group to enable everyone to chat about what they have learned, share and ask questions. You can join now with this invite by clicking the link below.

IQ Summit-Machine Quilting AcademyPrivate group
Join Group
So remember to put this in your diary:  9am Australian Central Standard Time.  Refer to this world map to work out what time it is in your location. It will be sometime Saturday afternoon/evening for most in the USA 
If you hold a FREE pass – then you can watch this session live AND for 12hrs of replays.
If you are a paid member, you can watch this LIVE and the replay at any time that suits you for the duration of your subscription.
Please note that you can ALWAYS watch for FREE – the live session. You just need to show up…just like when you purchase a class at a show and you don't get a replay or do over later.

Join our Partner Program
Have a list of IQ associates, friends or customers,  that you think would benefit from our content? Our Partner Program is for you! Our affiliate cookies last for a full 90 days, maximising the chances that you'll be rewarded for the referral.
We also pay out a  10% commission  for each referral. And if they purchase a recurring subscription, we'll also pay you for  each month  they pay us!
Payouts are made at the beginning of each month for accounts that have a balance of at least $50. 

So jump on board to help subsidise your own subscription/Pass!  Join the private FB group members only (if you have registered on the IQ summit then you are a member) – and be prepared to learn more on the amazing Ultimate tool – our Intelliquilter system. 

Tracey