Create a new block to share – and watch Tonia design a pattern to fit inside in a future class. We will choose a couple of these to show you how. Please post these blocks either in the Friends using Intelliquilter Facebook group or here on this page!
Thanks for so many joining us for the latest class on 'Making Blocks' on the Intelliquilter summit.
https://iq-machine-quilting-academy.heysummit.com/talks/making-blocks/
The replay is available now for you to watch forever if you have the All Access Early Bird pass.
Kay Durham This made my quilt map designing SO MUCH easier and time saving to decide what patterns to use and will allow me to make and see option for secondary designs. Whoohooo ") Each class is more interesting than last and I see more potential with IQ. Thank you both so much!🥳🥰
Paula Moser-Spaulding Thank you!! Definitely opened up some new ideas for me!
Helen Baczynski A great class, as always. Thank you.
I have recently discovered that even after two emails to all that have registered, that some did not get the notification of this added class in time to register to receive reminder emails.
I will regularly be adding classes, as this is the aim of this evergreen summit – to continue to add great content for you to learn and be challenged on. So after some help from support, I have turned on an automatic notification that you will receive for ALL classes that occur. This does mean that you will receive email reminders for everything and I really hope that this is not too much? If you find it so, then please use the links at the bottom of the emails to reduce the number of reminders that you are receiving on all of these. I would hate to upset you with too many.
This way no-one should miss out on the live classes by not seeing emails hopefully.
Next class is:
Intelliquilter Toolbox – Fans for new patterns by Tonia Brooks
Sunday 26th April 9am AEST
How do Fan patterns work when I want a new design from a pattern that isn't supposed to do that.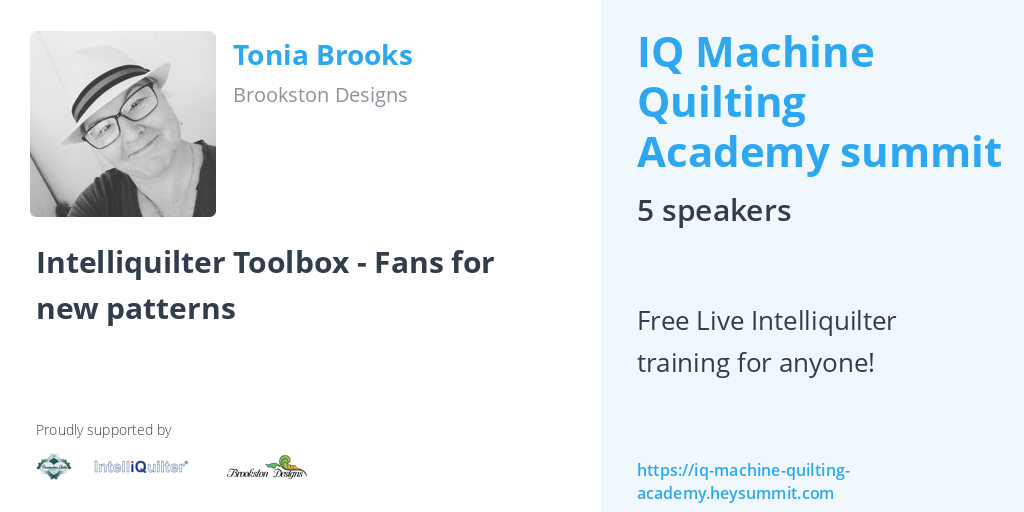 We both look forward to having you on this next LIVE class where you will be amazed by the new patterns that you can create yourself.
Tracey